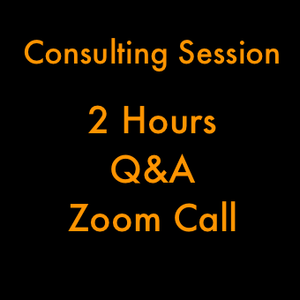 I'm here to offer you an all-encompassing Escape Room Business Consulting Session, tailored exclusively for aspiring and established escape room entrepreneurs. My mission is to guide you through every step of your business journey, ensuring your venture's sustainable growth and success.
In this focused and interactive session, your questions and concerns will take center stage. I am here to provide detailed answers, practical solutions, and personalized strategies to address each one.
Here's what you can anticipate from our session:
Dedicated Q&A Time: You will have ample time to ask me any and all questions about your escape room business. I'm here to provide clear, actionable answers based on my extensive industry experience.

Customized Business Plan Assistance: Let me guide you in formulating a robust business plan that clearly outlines your mission, vision, and financial goals.

Strategic Location and Layout Planning: Receive expert advice on selecting the ideal location and designing a layout that enhances the overall customer experience.

Creative Puzzle and Theme Development: I will assist in unlocking your creativity to develop engaging and unique escape room themes and puzzles.

Marketing and Branding Expertise: Learn effective marketing and branding strategies to establish a strong brand presence and attract a consistent stream of customers.

Operational Guidance: Gain insights into optimizing your operations, from hiring and training to delivering exceptional customer service.

Legal and Regulatory Navigation: I will help you understand and comply with all legal requirements, ensuring your business operates within all legal boundaries.

Technology Integration: Explore how to incorporate the latest technology trends to keep your escape room business cutting-edge.

Investment and Funding Insights: Get guidance on identifying and securing the right type of investment and funding for your business.
Duration: 2 Hours
Delivery Mode: Online (via Zoom/Skype) or In-Person (in Conundroom Escape Rooms, Redmond,WA )


Book Your Session Now: Don't let unanswered questions hinder your escape room business's growth. Secure your consulting session with me today and embark on a journey of learning, growth, and unmatched business success.
For any queries or further information, do not hesitate to get in touch at alex@conundroom.us. Your thriving escape room business is just a conversation away!